Latest News
Subscribe to posts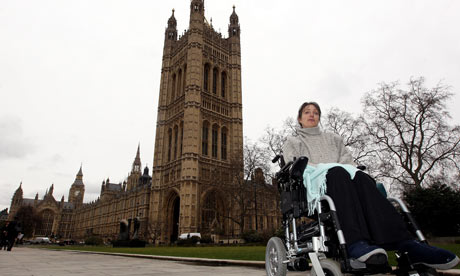 Keir Starmer excludes mercy killings from guidelines and puts onus on parliament to change law
Debbie Purdy, who has multiple sclerosis, at Westminster after the DPP issued guidelines clarifying policy on assisted suicide. Photograph: Dan Kitwood/Getty Images
The director of public prosecutions, Keir Starmer QC, today rejected calls to create a regime in which assisted suicide is permitted in England and Wales, saying it is an issue for parliament.
Publishing guidelines to clarify when an individual might not face prosecution under the 1961 Suicide Act for helping a friend or loved one die, Starmer said he was not decriminalising the offence of encouraging or assisting suicide, which carries a maximum prison sentence of 14 years.
"Nothing in this policy could be taken to amount to an assurance that a person will not be prosecuted if he assists the suicide or attempted suicide of another person," the DPP said.
The guidelines place closer scrutiny on the motives of the suspect rather than the condition of the victim, such as whether they are terminally ill.
They also make clear that to be related to a victim will not be considered a mitigating factor, given that some relatives might be manipulative.
Starmer said so-called mercy killings, such as the case of Kay Gilderdale, recently acquitted by a jury of her daughter's attempted murder, were not covered by the guidelines.
"The policy does not open the door for euthanasia or so-called mercy killings," he said.
"The act of suicide requires the victim to take his or her own life. Euthanasia or mercy killing are where the suspect takes the life of another and they may well be liable to a charge of murder or manslaughter. That distinction is an important one which we all need to understand."
The guidelines outline six factors which could mitigate against prosecuting someone who has assisted the suicide of another. These include:
• The victim reached a clear, voluntary decision to commit suicide.
• The suspect was wholly motivated by compassion.
• The suspect reported the suicide to the police and fully assisted inquiries.
In all there are 16 factors which will be seen to favour a prosecution, including if the victim is under 18, the suspect stood to gain or was paid. Starmer said the guidelines had been drawn up after the "most extensive snapshot of public opinion" since the drawing up of the 1961 Act. Some 4,800 individuals responded in a six-month consultation exercise.
Crucially, the issue of whether a victim had a terminal illness, incurable physical disability or severe degenerative physical condition, will no longer mitigate against prosecution.
Starmer said respondents had suggested the inclusion of these factors gave the impression that vulnerable people were less protected by the law.
The guidelines now concentrate not on the health of the victim, but on the motivations of the suspect – for example, clear evidence of compassion will mitigate against prosecution. Starmer made clear he was not changing the law, passing the responsibility for any statutory change to parliament.
On whether a living will mitigated against prosecution, Starmer said it was not his job to set out a context in which assisted suicide was accepted and legal in society.
"Only parliament can set out what processes or procedures might be appropriate in the context of encouraging or assisting suicide that may lead to an automatic decision not to prosecute," he said.
"Any requirement for their to be a Living Will or for a doctor to confirm that the victim was terminally ill, another suggestion, is clearly within the scope of processes and procedures that... create a regime for encouraging or assisting suicide.
"Only parliament can determine the legality of such a regime, not the DPP ... and we have rejected any factor against prosecution that could be said to be a stepping stone towards the creation of such a regime," he said.
Starmer had been required to publish the guidelines after the House of Lords judgment in the case of Debbie Purdy, who has multiple sclerosis, who wanted clarification of whether her husband would be prosecuted if he accompanied her to the Swiss clinic Dignitas, which helps the terminally ill to die. Purdy said today she was delighted with the published guidelines.
"Because I will know the likely consequences of any decisions I choose to make about my death I won't have to make those decisions early," she said.
She still wanted the law to change. "I will continue to campaign for assisted dying to be legal in the UK," she said.
Other campaigners said it was time for the government to fulfil its responsibility and address the need to create a compassionate regime around end of life issues.
Jayne Spink, the director of policy and research at the MS Society, said: "There is still a long way to go before the palliative and end of life care offered to people with MS is the best it can be. The DPP guidance does not detract from the unfulfilled duty of care from the government."
Richard Hawkes, the chief executive of Scope, however, feared the guidelines could frighten disabled people.
"We are very concerned about the potential impact of the DPP's new guidelines on assisted suicide," he said.
"We know that many disabled people are genuinely frightened about any changes which risk weakening the protection offered by existing law and which could effectively create legislation by the back door."
10 October, 2009, by Desire Athow

Hacker Gary McKinnon, who stands accused accused of breaking into US military systems, has lost what may be considered as his last chance to evade extradition to the US.
McKinnon, who has been suffering from Asperger's syndrome and persistently saying that he was looking for details on UFOs, was told that his extradition to the US can't be challenged in the newly formed UK Supreme Court.
This is because McKinnon's case wasn't reportedly considered to come under what is being referred to as wide enough public interest, the hacker was told yesterday . (You can read our lengthy coverage of the
McKinnon Case here
).
However, McKinnon's lawyers aren't simply ready to give up and asserted that they would take the matter to the European Court of Human Rights in Strasbourg to save the self-confessed hacker from a trail in the US where he could face prison term of up to 60 years.
Back in July, two senior judges dismissed judicial reviews into the handling of the hacker's case by the Crown Prosecution Service as well as Home Office.
Responding to the judgement, McKinnon's deeply anguished mother said: "No other country in the world would so readily offer its citizens to the US as sacrificial lambs merely to safeguard a 'special political relationship'. To use my desperately vulnerable son in this way is despicable, immoral and devoid of humanity".
March 25, 2009

Government plans to track the correspondence of millions on social networking sites have been met with fierce criticism
The private correspondence of millions of people who use social networking sites could be tracked and saved on a "big brother" database, under new plans being drawn up by the UK government.
Ministers revealed yesterday that they were considering policing messages sent via sites such as MySpace and Facebook, alongside plans to store information about every phone call, e-mail and internet visit made by everyone in the United Kingdom.
There was immediate uproar from opposition parties, privacy campaigners and security experts who said the plans were over-the-top and unworkable.
There have long been proposals, following an European Union directive in the wake of the July 2005 bombings in London, for emails and internet usage to be tracked in order to guard against future terrorist attacks.
But since then, social networking sites have exploded in popularity, with around half the British population thought to be using them. Security services fear that this is a loophole that terrorists and criminals could exploit.
Vernon Coaker, the Home Office minister, has revealed that social networking sites may be forced to keep information about how their members are using their sites.
"Social networking sites, such as MySpace or Bebo, are not covered by the directive," he said.
"That is one reason why the Government is looking at what we should do about the intercept modernisation programme because there are certain aspects of communications which are not covered by the directive."
The government insists that the contents of each message would not be collected, but that the data on exactly who each person had corresponded with would be tracked and eventually logged on the database.
The move has been met with fierce criticism. Liberal Democrats Home Affairs Spokesman said: ""We need complete clarity from the Government over what data they will retain and how it will be kept secure.
"Will membership of Facebook groups or people listing 'suspicious' interests be caught in their dragnet?
"We also need guarantees that the Home Secretary's 'Dustbin Stasi' won't use terrorism legislation to access retained Facebook data for frivolous purposes, such as identifying people who let their dogs foul the pavement."
Others suggested that the government's planned "big brother" database was becoming so large and ambitious in scope that it could never be fully secure.
Michael Parker, spokesman for campaign group NO2ID, said: "Their plans for the intercept modernisation programme were completely unworkable to begin with and are becoming more so with every addition they suggest."
Rik Ferguson, a security expert at Trend Micro, the internet security firm, said: "The Home Office insists that this information is vital for fighting crime and terrorism; but is this legislation really going to be effective against the people at whom it is supposedly aimed?
"If national governments and law enforcement organisations truly believe that online criminals and international terrorists don't know how to hide their online traces, then we have a bigger problem than we thought."
From BBC News


Page last updated at

01:40 GMT, Friday, 27 March 2009
A Private Members' Bill on the reforms is due to be debated
Gordon Brown and Buckingham Palace have discussed plans to change the rules of succession to the throne, including giving royal women equal rights.
Downing Street said the scrapping of the ban on heirs to the throne marrying Roman Catholics was also discussed.
A Private Members' Bill aimed at ending the discrimination is due to be debated but the government is not backing it.
Meanwhile a BBC poll suggests there is overwhelming public support, with some some 80% backing the bill's proposals.
The poll also suggests 76% of Britons want the monarchy to continue after the Queen.
The legislation on reform has been introduced by Liberal Democrat MP Evan Harris, to end the "uniquely discriminatory" rules laid down in the 1701 Act of Settlement.
For centuries the rules have endured but the government has indicated that it is prepared to look at it again, said BBC political correspondent Ben Wright.

Downing Street confirmed the prime minister would raise the prospect of the major reforms at a Commonwealth summit in November, and that dialogue with Buckingham Palace was ongoing.
Such reform would need the backing of the 15 other Commonwealth countries which have the British monarch as head of state.
Sources at Number 10 have said while the government supports the "principles and objectives" of the bill, it would not support the bill itself.
Dr Harris has cross-party support for his proposals, but a Ministry of Justice spokesman said while the government "stood firmly against discrimination" there were no immediate plans to legislate because the changes required were "complex".
BBC POLL: THE PUBLIC SPEAKS

Equal rights for royal women? - 89% yes

Heir allowed to marry Catholic? - 81% yes

British monarchy to continue? - 76% yes

1,000 people polled by ICM Research, 20-22 March 2009
'Slowly, slowly'
The Act states that heirs to the throne lose their right to be the sovereign if they marry a Catholic or convert.
In addition, male heirs are given precedence.
If the Act was changed to give royal daughters equal rights, Princess Anne would become fourth in line, behind Prince Harry. Currently she comes after the Duke of York and the Earl of Wessex, and their children.
As things stand, Prince William cannot marry a Roman Catholic and become king.
And if he has a daughter she cannot be queen if she has a younger brother.
Dr Harris's Royal Marriages and Succession to the Crown (Prevention of Discrimination) Bill is co-sponsored by Catholic parliamentarians such as Tory MP Edward Leigh, Labour's Andrew Mackinlay and John Grogan and fellow Lib Dem John Pugh.
BBC royal correspondent Peter Hunt said the government was now moving "slowly, very slowly" on the issue, as it tried to deal with what a Scottish cardinal has called "state-sponsored sectarianism", said
But it may not give this particular private members bill the support it would need to become law.
A Ministry of Justice spokeswoman said: "The government has always stood firmly against discrimination in all its forms, including against Roman Catholics, and we will continue to do so.
"To bring about changes to the law on succession would be a complex undertaking involving amendment or repeal of a number of items of related legislation, as well as requiring the consent of legislatures of member nations of the Commonwealth.
"We are examining this complex area although there are no immediate plans to legislate."
Republic
Dr Harris said there was "nothing new" in the government saying it wanted to see change.
"When first elected 12 years ago they said they would end unjustified discrimination wherever it exists. But there has been no action to back that up.
"They need to support this bill today, amend it as necessary and make sure it passes. They can't wait until next year because our constitution also tells us that their time is up in June. This is the last chance."
The BBC poll, conducted by ICM Research, suggests four out of five people want to give women equal rights of succession and remove the ban on the heir marrying a Roman Catholic.
Some 89% of the 1,000 people questioned believed male and female heirs should have equal rights to succeed to the throne.
Some 81% believed that an heir to the throne should be allowed to marry a Roman Catholic and still become monarch.
According to the poll, 76% said the monarchy should continue, against 18% who said they would favour Britain becoming a republic. An additional 6% said they did not know.
March 27, 2009

GCSE boards must act immediately to improve the quality of science questions in order to stretch and challenge students, the exam regulator said yesterday. It said that the qualification had been dumbed down, with too many multiple choice papers and superficial questions.
A controversial new GCSE in single science, which was intended to make the subject more relevant to teenagers, raised "significant cause for concerns" about standards, Ofqual said.
Many of the multiple choice questions were too easy because the wrong options given were "too obviously incorrect", it said. There were also too many "short-answer questions that were fairly limited in their requirements or in the scientific content that they addressed". The GCSE physics paper had replaced the testing of physics concepts with questions about the advantages and drawbacks of CCTV, mobile phones and the internet, it said.
The regulator called for tighter marking criteria to ensure that "only answers deserving of the marks are credited".
A separate study found a "decline in the standard of performance" in GCSE physics. Papers had got easier because fundamental principles of science were removed from the syllabus.
The reports have reignited a fierce public debate over the nature of science teaching. The new applied single GCSE in the subject, introduced in 2006, aimed to create scientifically literate citizens and ensure that all students got at least a toehold in the discipline by focusing on scientific processes. But purists complain that this approach results in the squeezing out of "proper" science, adding that efforts to make the subject seem relevant and trendy had not attracted more students to it.
Kathleen Tattersall, chairwoman of Ofqual, said: "Our monitoring shows that the revisions to the GCSE science criteria in 2005 have led to a fall in the quality of science assessments." She added that improvements had been made to exams being set from this year and the Qualifications and Curriculum Authority (QCA) was reviewing the GCSE science criteria for courses starting in 2011. "Science is a vitally important subject and it is essential that these new criteria and specifications should engage and challenge all learners, particularly the most able," she said.
For coursework completed under teacher supervision, which can represent up to a third of marks, standards were too variable, the regulator said. Exam boards should collaborate to ensure that grades were comparable.
On GCSE physics, Ofqual found a "significant reduction in content" from GCSE exams between 2002 and 2007 so that "fundamental explanations of phenomena were not tested". It added: "Boyle's law, the use of a capacitor as a timing device and detailed consideration of the optics of the eye and the projector were also removed. The content that was added tended to be concerned with the social implications of technological applications, rather than physics concepts."
Candidates were required, for example, to discuss the advantages and drawbacks of CCTV, mobile phones and the internet, which "did not add to the candidates' knowledge and understanding of physics".
The Schools Minister, Jim Knight, said he was concerned about the findings and wanted to make sure that the most able students were stretched. He added that the Government was investing in measures to increase the numbers of both specialist science teachers and students who can study the triple individual sciences.
Nick Gibb, the Shadow Schools Minister, said: "This is a terrible indictment of the Government and the QCA at a time when scientific education has never been so economically vital, and it shows why private schools are abandoning the GCSE."
Mike Cresswell, of the AQA exams board, said he was disappointed that the regulator did not address the inevitable conflict between the need to create a scientifically literate population at the same time as training world-class scientists.
Richard Porte, of the Royal Society of Chemistry, said the report confirmed the society's findings that brighter students were no longer being stretched by the system and candidates were almost walked through the questions. "No fault lies with students or teachers. It is the system that is at fault and that system requires early, radical surgery," he said.
March 26, 2009
More than 600 judges have condemned government plans for new sentencing guidelines as "unnecessary, costly and unwelcome" and likely to lead to injustice.
In a strong and highly unusual intervention, the body that represents the 652 circuit judges in England and Wales has warned that changes going through Parliament will severely limit judicial discretion.
The Council of Circuit Judges says that the Coroners and Justice Bill will introduce "mandatory guidelines which the court must follow or apply in reaching the sentencing decision". It said: "We do not consider these sentencing proposals to have any benefit. The proposals are not sought by the judiciary or any other criminal justice group. They are unnecessary, costly and unwelcome."
The Bill has passed through the Commons but has yet to go through the Lords, where the judges are likely to receive substantial support. They believe that the proposals will lock them into a rigid framework of sentencing options.
The Bill also seeks to remove the discretion of the Sentencing Guidelines Council "by requiring it to structure guidelines in a rigid way", the judges add. "The discretion of the sentencing judge is thereby severely limited by the introduction of what are mandatory guidelines which the court must follow or apply in reaching the sentencing decision."
The judges accuse the Government of departing from recommendations made by a working group set up under Lord Justice Gage in 2007 to consider an American-style sentencing grid. Its report called the idea "unsuitable and unacceptable in England and Wales".
Jack Straw, the Justice Secretary, sought to defuse the issue last night, insisting that he was not introducing mandatory sentencing guidelines. "I share the objections of the Council of Circuit Judges to what they describe as mandatory guidelines," he said. "But this is not what is contained within the Bill."
He said that on Tuesday he had moved a series of amendments "to underpin judicial discretion, and to ensure greater necessary flexibility for the sentencing court" that MPs agreed. The Bill also spelt out that the sentencing court could depart from the already flexible guidelines "where it is in the interests of justice to do so". Mr Straw said that he was willing to meet judges to discuss concerns.
A spokesman for the Ministry of Justice said that the Bill intended to ensure "greater consistency in sentencing, which would be in the interests of justice and, primarily, of the public".
Similar concerns have been expressed by the 30,000-strong Magistrates' Association. Its chairman, John Thornhill, said that magistrates were "angry and upset over what they see as an unwarranted attack on their independence".
The association said yesterday it understood that it was not the Government's intention to remove judges' discretion or to tie sentencing decisions to the availability of prison places. It added, however, that "amendments proposed are not strong enough to allay fears that undue influence through a too rigid sentencing structure will be imposed".
Keith Cutler, of the Council of Circuit Judges, said: "Sentencing is an art, not a science. We believe the current system is working and that there is no need for any new structure."
The view from the air traffic control tower at Heathrow.

Debate rages over Heathrow's proposed third runway. Here are some of the arguments put forward by each side:
ARGUMENTS FOR THE THIRD RUNWAY
• Heathrow needs more capacity
Heathrow runs at close to 100% capacity. With demand for air travel predicted to double in a generation, Heathrow will not be able to cope without a third runway, say those in favour of the plan.
Because the airport is over-stretched, any problems which arise cause knock-on delays. Heathrow, the argument goes, needs extra capacity if it is to reach the levels of service found at competitors elsewhere in Europe, or it will be overtaken by its rivals.
Passenger numbers may be down as recession takes hold, but proponents argue we should not base transport decisions on the bad times, but look ahead to future upturn in demand.

• The third runway will boost the economy
The third runway will be worth £7bn a year to the economy, according to airport owner BAA.
Some say a third runway is the only solution to the congestion at Heathrow.
Tens of thousands of jobs will be created - in construction in the short term - and for business and in tourism over the longer term.
Lack of expansion at Heathrow would threaten London's position as trading capital of the world, throttling the very international links Britain was built on.
Business leaders argue London deserves and needs an airport of international quality.

• Pollution concerns are overplayed
Those pushing for the new runway argue that pollution caused by the airport will be closely monitored. Meeting targets is a condition of expansion.
By 2020, when the runway would be completed, new technology will mean planes are much quieter and less polluting. The Airbus A380 already demonstrates that planes are moving in this direction.
If the runway were not built, the argument runs, there would be no cut in emissions. Flights would simply move to other European airports. CO2 would not be reduced, merely transferred elsewhere to the UK's detriment.

• There is no alternative
Building a brand new airport in the Thames Estuary is not feasible according to those in favour of the third runway.
Transport Minister Geoff Hoon says lack of transport infrastructure, fears of 'bird strike', cost and lack of available finance all make the project prohibitive.
ARGUMENTS AGAINST THE THIRD RUNWAY
• We need to reduce, not increase, emissions
Heathrow generates 50% of UK aviation emissions. This makes 6% of total emissions, according to Department for Transport figures.
With a third runway and as the UK as a whole cuts emissions, Heathrow's contribution to overall UK emissions would rise significantly by 2050, some calculate to as much as 50% of total.
A third runway could mean an extra 200,000 flights a year over London.
Why should aviation capacity be increased indefinitely? At a time when most accept the need for emission cuts, say opponents, should we not stick with the capacity we have and allow market forces to price out inessential flyers?
• Health of Londoners at risk
A Greater London Authority (GLA) report suggested Heathrow would even now breach the EU regulations on levels of Nitrous Oxide due to come into force in 2010. Extra flights would only make this worse.
Even the Environment Agency admits that with a third runway, Heathrow would breach these limits.
The GLA study also found that the airport would breach noise pollution limits as a result of the extra flights.
• Economic case overstated
Many of the new passengers the extra runway would bring would be transit passengers. According to former BA boss Bob Ayling they would spend little or nothing in London, only boosting airline profits.
According to Sir David King, former chief scientific adviser to the government, the runway would over time come to be seen as a 'white elephant'.
Long before investment in it were repaid, demand for flying will have fallen away as pressure to reduce carbon increases and competition with other forms of travel grows. The downturn is already forcing people to find substitutes for air travel. This pattern will continue, he suggests.
• Impact on the local area
Transport infrastructure around Heathrow already struggles. The extra demands would create gridlock.
To make way for the runway, Sipson - a village of 700 houses - would be demolished and hundreds of acres of greenbelt land would be swallowed up.
• Alternatives
For historical reasons, Heathrow is badly located. It is the only major airport with flight paths over a large capital city, for instance.
Some, like London Mayor Boris Johnson, believe this is a perfect opportunity to start again and propose a new airport in the Thames Estuary.
Planes would approach and leave over water, reducing the impact of noise and the airport could operate 24 hours a day.
January 16, 2009


The new runway at Heathrow could be built five years earlier than expected as the Government rushes the planning process to prevent opponents from blocking the expansion.
Ministers yesterday asked BAA to submit a planning application as soon as possible with a view to opening the new runway and terminal as early as 2015. Previously, the Government had suggested the runway would not open until 2020.
The £9 billion expansion, which will increase Heathrow's capacity by almost 50 per cent, is likely to be one of the first projects considered by the new Infrastructure Planning Commission, due to be appointed this year. The commission will make the final decision, rather than the current practice of a planning inspector making a recommendation to ministers. The inquiry will be much shorter and simply consider whether the application complies with the Government's aviation policy, giving only limited scope to objectors.
There were angry scenes in the Commons as Geoff Hoon, the Transport Secretary, announced that he was approving the runway.
Far from conceding defeat, the environmental and heritage groups opposing the runway pledged to step up their campaign, both in the courts and by direct action at airports.
The Conservatives repeated their pledge to scrap the runway if they win the next election. However, blocking the plans will become more difficult once the planning process is under way. Lord Adonis, the Transport Minister, told The Times: "It is possible it could open in 2015 if the planning process is completed in time."
He said that the Government's decision to reject plans for more intensive use of the existing runways made it imperative to build the third one as soon as possible. He admitted that the absence of extra capacity in the next few years meant that Heathrow would continue to operate more than 99 per cent full and be prone to long delays after even minor incidents.
BAA welcomed the decision and said it was confident of being able to comply with environmental conditions. Mr Hoon said that airlines would only be allowed to use half the capacity of the new runway, or 125,000 flights a year, until 2020.
Flights would rise after that if total emissions from UK aviation were on course to fall below 2005 levels by 2050. He said that a £250 million fund to boost sales of electric cars would more than make up for emissions from the expansion. Mr Hoon also announced a study into a high-speed rail line linked to Heathrow but did not make a commitment to building it.
Greenpeace said: "If Gordon Brown thinks this is a green runway he must be colour-blind." It said that more than 20,000 people had offered to invest in the piece of land it has bought on the site of the proposed expansion.

A third runway could mean an extra 200,000 flights a year over London.
From BBC

Air traffic control officials have denied suggestions Heathrow would have to close if a new airport was built in the Thames Estuary.
London Mayor Boris Johnson has championed a new airport as an alternative to a third Heathrow runway.
NATS chiefs, who control UK commercial airspace, told MPs traffic would be hit at existing London airports.
But it would not kill off Heathrow - and expanding that airport was still the best answer to increasing demand.
Flight patterns
A feasibility study into a new airport to the south-east of London, an idea first proposed nearly a decade ago, is due to be published later this month.
A cross-party committee of MPs, chaired by Labour MP Nick Raynsford, the former minister for London, has also been set up to examine the plan, although the government has described it as "irresponsible and disastrous" and the Conservative leadership have yet to give it their backing.
Appearing before the Transport Select Committee, officials from NATS - which provides traffic control services at 15 UK airports - questioned the impact of a new airport on current flight patterns.
Operations director Ian Hall said NATS would not be able to do any research on the likely impact until firm proposals were put forward but said he believed expanding Heathrow was preferable.
In the event of an entirely new airport being built, he said, neither Heathrow, Stansted or London City would be able to operate at full capacity and the UK would not get the "full benefits" of capacity available otherwise.
"What we are trying to do is to illustrate that by adding an additional piece of infrastructure into that very complex mix would have a direct impact on overall capacity [in London].
Conservative MP David Wilshire said NATS had previously suggested that a Thames Estuary airport would result in the closure of Heathrow, Stansted and London City airports.
The firm was now giving a "slightly less firm explanation", Mr Wilshire said, prompting suggestions from Committee chairman, Labour MP Louise Ellmann, that it had modified its views because of the controversy at Heathrow.
Pollution
I remember saying that if you put an airport here and an airport here...that something would have to give
Mr Wilshire pressed Mr Hall on whether the new airport would result in the "curtailment or complete closure" of other London airports "or something in-between".
Mr Hall denied that NATS had shifted its stance, saying it had been "consistent" in its approach on the issue of new airport capacity and had not been subject to any political pressure.
"I think we have also been consistent in our view that it is much better to expand existing infrastructure than it would be to create new infrastructure."
He added: "I remember saying that if you put an airport here and an airport here and the departures from that airport are flying straight towards the flights arriving from the other airport that something would have to give."
A coalition of local residents, councils and environmental groups have said they will take legal action to try and block a third runway at Heathrow.
Ministers gave the go-ahead for the new runway last month with conditions on the number of flights and type of aircraft that are able to use it.
The London Mayor has said the pollution from a vastly expanded Heathrow would damage the living standards of millions of residents of the capital and alternative ideas must be looked at.
Brendan McConville has been charged with the murder of Constable Carroll
From BBC

A former Sinn Féin councillor has appeared in court charged with the murder of Constable Stephen Carroll.
Constable Carroll was shot dead as he answered a distress call in Craigavon.
Brendan McConville, 37, of Glenholme Avenue, Lurgan, who denies the shooting, was also charged with having a rifle and 26 rounds of ammunition.
Also on Wednesday, a 21-year-old man was arrested and subsequently charged with withholding information about Constable Carroll's murder.
Brendan McConville was remanded in custody to appear again at court on 3 April.
There was a heavy security presence at Lisburn Magistrates Court, with riot police standing guard and security checkpoints in the city.
Mr McConville served on Craigavon Borough Council from 1993 to 1997. Sinn Fein say he was expelled from the party some time ago.
Defence solicitor Kevin Winters asked police to confirm that Mr McConville denies shooting Constable Carroll.
Detective Inspector John Caldwell confirmed this but said he could connect him with all charges.
On Tuesday, a 17-year-old youth was remanded in custody charged with Constable Carroll's murder.
On Monday, two men, aged 27 and 31, who were being questioned in connection with the murder were released without charge.
Constable Carroll's murder came just two days after the killing of two soldiers at Massereene Army barracks in Antrim.
They were Sappers Mark Quinsey, 23, and Patrick Azimkar, 21.